Starting with a clay model of the final belt buckle. The clay surrounding it is intended to hold in the plaster that will be used to make the mold.
I made this fish using a pottery tool set like this one:
Next plaster is poured to make a mold for the zinc.
Once the plaster has set the clay is removed.
The plaster cast is heated in a woodfire or BBQ grill.
Zinc is heated in a metal can in a wood fire
or coffee can furnace
until it is molten.
The molten zinc is poured into the mold and then the back is compressed with a 2x4.
Finally the coat hanger is dipped in to the zinc and held until the zinc sets.
The metal is pulled out of the plaster.
The extra metal is cleaned off with a Dremel tool
Cartoon turtle and Trilobite. Some more of my belt buckles with the same method.
My cartoon turtle belt buckle.
Other online cast metal fishes!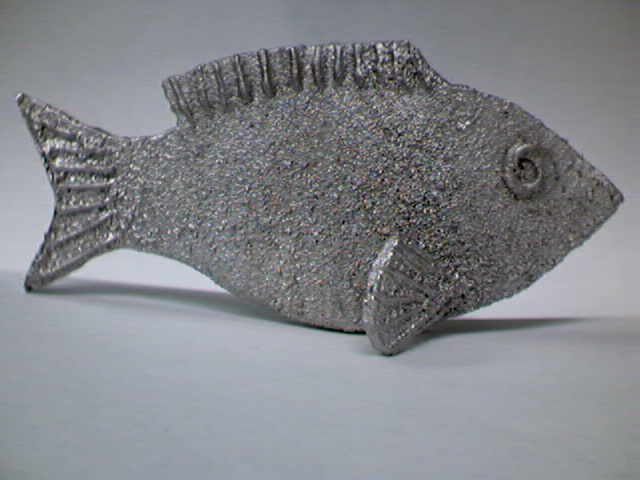 Here is a book that I have really enjoyed about casting:
Creative Casting Jewelry Silverware Sculpture
lots of good photos and descriptions of a number of casting processes.
My metal source. is
rotometals.com
or buy through amazon